Bank cards
For the comfort and speed of operations, filling up of purses and withdrawal of money, WebMoney System allows connecting your bank card VISA/MasterCard to a purse or order a new card connected to your purse.
Service for binding ruble bank cards Banks.webmoney.ru
At the moment, the service allows connecting to your WMP-purses only bank cards of the following banks:
Managing bindings is available in the section My accounts, cards of the Bindings Service. You can set the display of the connected card in the list of your purses in WebMoney Keeper, which will enable to perform quick operations on filling up the purse and withdrawing to the card.
More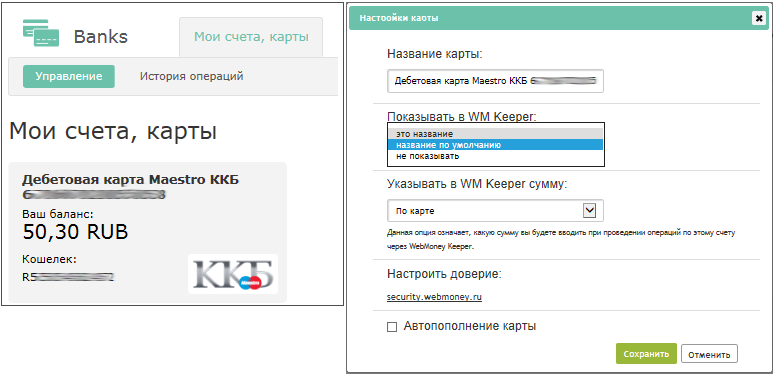 Detailed information about the service see WebMoney.Wiki.
Hide
WebMoney Service: Debit Cards WebMoney.Cards
This service allows connecting your card to WMZ or WME purse or book issue of a new card and quick withdrawal to the card from your purse both using website of the Service, and the list of own purses in WM Keeper.
You can connect your bank card VISA/MasterCard of any bank in the world and fill it up from WMZ or WME-purse.

This service allows ordering the release of a new credit card connected to a WM-purse.

The following types of cards can be ordered:
The service for issueing and maintenance of prepaid payment cards WM-Card
The service is intended for order and maintenance of prepaid payment cards by NGO "Network Clearing House". Issued cards includes MasterCard and VISA Virtual cards from the "Russian Standard" bank.

More
The service allows instant receipt of a virtual card in the form of banking details, as well as the order of classic plastic cards. The received cards will be displayed in your WM Keeper.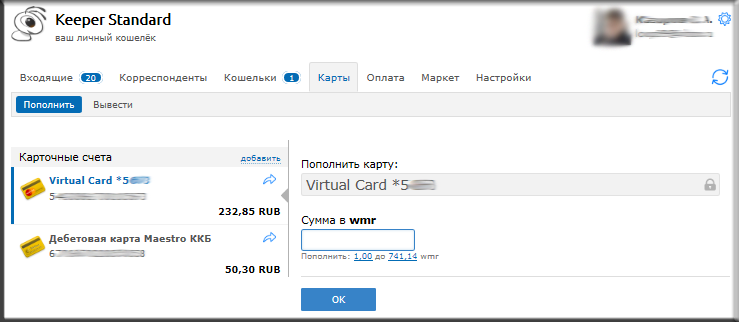 How to order and get a card MasterCard Virtual
Hide